Tag Cloud
Featured Review
This book was recently pulled from publication due to literary representation, but it is still available through Matt's website. Please purchase it there. Link can be found at the bottom of this page.
Jack the Ripper: Live and UnCut is a science fiction thriller written by Matt Leyshon. It focuses on an investigative reporter named Carl Axford and his recruitment by a covert group called Limbo to go back in time and solve the Jack the Ripper murders that took place in late 19th century London.
Elliot, a member of Limbo, approaches Carl Axford and states that the group can offer him "an investigative story of a lifetime." Readers come to find out that Limbo is "used to solve cold cases." After Limbo prepares some tests for travel, Axford finds himself in the middle of the Ripper murders. Having to follow the strict rules and laws of time traveling through Limbo, Axford comes to find out some intriguing and life changing information surrounding the case that could alter history.
This book has a little bit of everything ranging from mystery to comedy. While Axford takes his position and purpose seriously, he also has a sense of humor, which gives some relief to an otherwise intensely dark story. The mystery of it all will keep you on your toes, guessing and wondering until you reach the really important parts of the story. Leyshon certainly adds his own elements to the Ripper case, intertwining fiction and non-fiction, which I found fit really well together. I promise this book does not disappoint.
I recommend this book to anyone who enjoys mysteries, thrillers, or science fiction. Also, of course, anyone who is interested in the Jack the Ripper case. You'll find that Leyshon did his research well. He sheds light on the women who lost their lives and the pain that came with it, despite their positions in life or how they were viewed by society. If you find anything particularly interesting about the Ripper case, Leyshon is sure to have covered it. This is one book you won't want to pass up.
Happy Reading!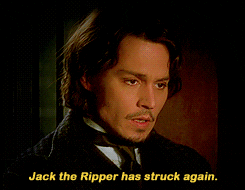 Check out Matt's website: https://matt-leyshon.com/
Follow Matt on Twitter: @mleyshonauth
Follow Matt on Instagram: mattleyshonauth9
Please reload